MAC Studio Fix Fluid SPF 15 $27.00 USD
A modern foundation that combines a natural matte finish and medium-buildable coverage with broad spectrum UVA/UVB SPF 15. Comfortable and long-wearing: lasts for up to eight hours. Applies smoothly, builds coverage quickly and easily. Contains specially treated micronized pigments and soft-focus powders for a super-smooth look that helps minimize the appearance of imperfections. Absorbs and disperses oil. Contains special skin-conditioning ingredients. Oil free.
Maybelline Full 'N Soft Waterproof Mascara $6.47 USD
This mascara builds full, soft thick lashes without the brittle feel. Prevents loss of lashes with Quick Dissolve System that allows easy mascara removal.
Covergirl Professional Natural Lash Mascara, 800 Clear $4.24 USD
Smudgeproof, cleargel formula isn't as heavy as typical mascara formulas. For natural looking, beautifully conditioned lashes.
Mary Kay TimeWise Microdermabrasion Set $26.90 USD
Mary Kay Timewise Microdermabrasion Set : Fight fine lines, refine pores and achieve beautifully smooth skin - immediately - with this simple, two-step set.
Maybelline Dream Matte Mousse Foundation Foundation Makeup $7.03 USD
Revolutionary whipped formula provides air soft, perfect matte coverage, with a weightless feel. Blends effortlessly for a soft, natural looking, even toned result.
Mary Kay TimeWise Firming Eye Cream $22.23 USD
Mary Kay TimeWise Firming Eye Cream - .5 oz. net wt. : Just imagine a luxuriously rich eye cream so advanced it firms, brightens, provides intense moisturization, plus minimizes fine lines and wrinkles. With new TimeWise Firming Eye Cream, you can have it all. It delivers more benefits for the younger-looking eyes you want to see. 96% of women saw an improvement in the overall appearance of the skin around their eyes. Experience the results for yourself.
Jan Marini Clean Zyme Green Papaya Cleanser $14.00 USD
Get the natural skin care exfoliation regimen right at home. Jan Marini Clean Zyme, an exfoliating product removes dead skin cells, reduces the appearance of scars and pigmentation irregularities giving your skin a natural scrubbed and polished look.
Proteolytic enzymes
Suitable on irritable and sensitive skin
Unplugs pores, removes acne
KForce Tongue Gel $15.00 USD
KForce Tongue Gel is a non-foaming gel we developed to clean the tongue. The special non-foaming formula allows you to clean to the very back of the tongue. We have added Propolis to maintain your tongue health.
Clinique Acne Cleansing Foam 1.7 fl. oz (50ml) $18.50 USD
The first step in Clinique's Acne Solutions Clear Skin System. Mild, medicated cleansing foam helps clear and prevent acne. Removes dirt and excess oil. Unclogs pores. Calms, soothes, visibly reduces redness. Skin feels soft, smooth, comfortable.
Clinique Blended Face Powder and Brush 1.2oz $21.00 USD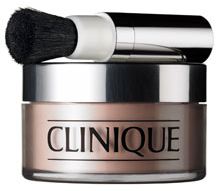 Clinique's signature blended powder. Loose, lightweight texture is right for every type of skin. Sets and perfects makeup, makes pores seem to disappear. Airy, skin-hugging formula delivers a reliably flawless finish.